Qty Moore & Wright etc micrometers to 9-10"
This item was sold in one of our on-line Auctions / Sales. We may have similar items available in our forthcoming Auctions, or if you have equipment to sell please contact us for free valuations, advice etc - Tel: 01778 590111 / Email: info@ppauctions.com or please get in touch with us via our contact page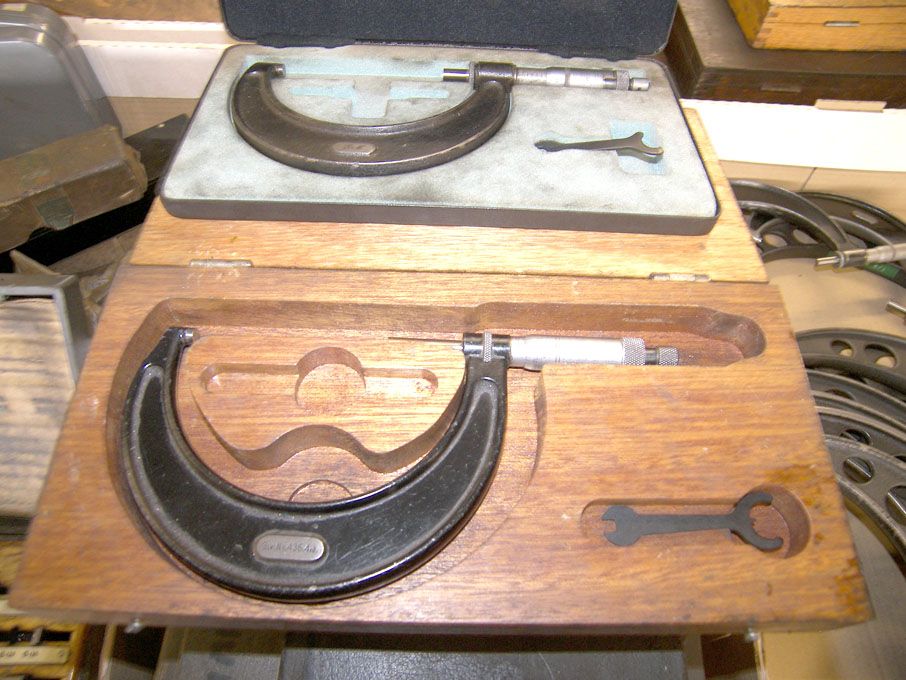 Description
Qty Moore & Wright etc micrometers to 9-10"
Auction - Horton Engineering
Boring / Shaping / Slotting: Webster & Bennet 36" vertical borer. Kearns horizontal borer with facing head & tailstock. Elliott shaper. Urpe vertical slotter.
Drilling: K&W 5'0" E3 radial arm drill. Richmond 40" radial arm drill. Herbert 4 spindle in line drill. Elliott 3E progress pillar drill. Ajax bench drill.
Grinding / Linishing: Clarkson No2 T&C grinder. J&S 540 surface grinder. Herbert Hunt drill grinder. Millford 14" DE grinder. Union 14" DE grinder. 3x DE grinders. RJH linisher.
Milling: King Rich KRV2000 turret mill. Cincinatti No 3V vertical mill. Parkson No 2V vertical mill. Adcock & Shipley 2S vertical mill. TOS FA3AV vertical mill. Parkson No 3J horizontal mill.
Pressing / Sawing: Hydraulic garage press. Denbigh flypress. Adcock & Shipley lever press. Pedrazzoli Super Brown cut off saw (2000). Startrite horizontal bandsaw. Q&S reciprocating saw. Powa cut off saw.
Turning: Colchester Mastiff 1400 gap bed lathe, 120" bc. Colchester Mascott 1600 gap bed lathe, 80" bc. Colchester Mascott 1600 straight bed lathe, 50" bc. 2x Colchester Triumph 2000 gap bed lathe, 50" bc.
Ward 7DS capstan lathe. 2x Ward 2D capstan lathe.

Welding / Sheet Metal: Miller 500kva Arc Welder. NBC 400 mig welder. Oxford Electric Arc Welder.
Kemppi 181 mig welder. NBC 500 mig welder. Cerbora Plasma 120 welder. 4x Neco etc welding manipulators. Qty welding tables, welding rods, Welding extraction, screens, anvil, mobile heath, burning torch, gauges & manual bender.

Miscellaneous: Hyster S40 gas fork lift truck. Hyster gas fork lift truck. Scott Clean pressure washer. 2x mobile A frames & Qty manual chain hoists. Various bar stock, pallet trucks, manual lift trucks, racking, Airop parts cleaner, Clarke parts washer, stands, tote pans, Office furniture, metal & wooden workbenches etc. Peugeot Expert Van, S reg.

Qty tooling / small equipment & inspection, factory plant etc.