Epson EB/X20 HD projector with Vision retractable...
This item was sold in one of our on-line Auctions / Sales. We may have similar items available in our forthcoming Auctions, or if you have equipment to sell please contact us for free valuations, advice etc - Tel: 01778 590111 / Email: info@ppauctions.com or please get in touch with us via our contact page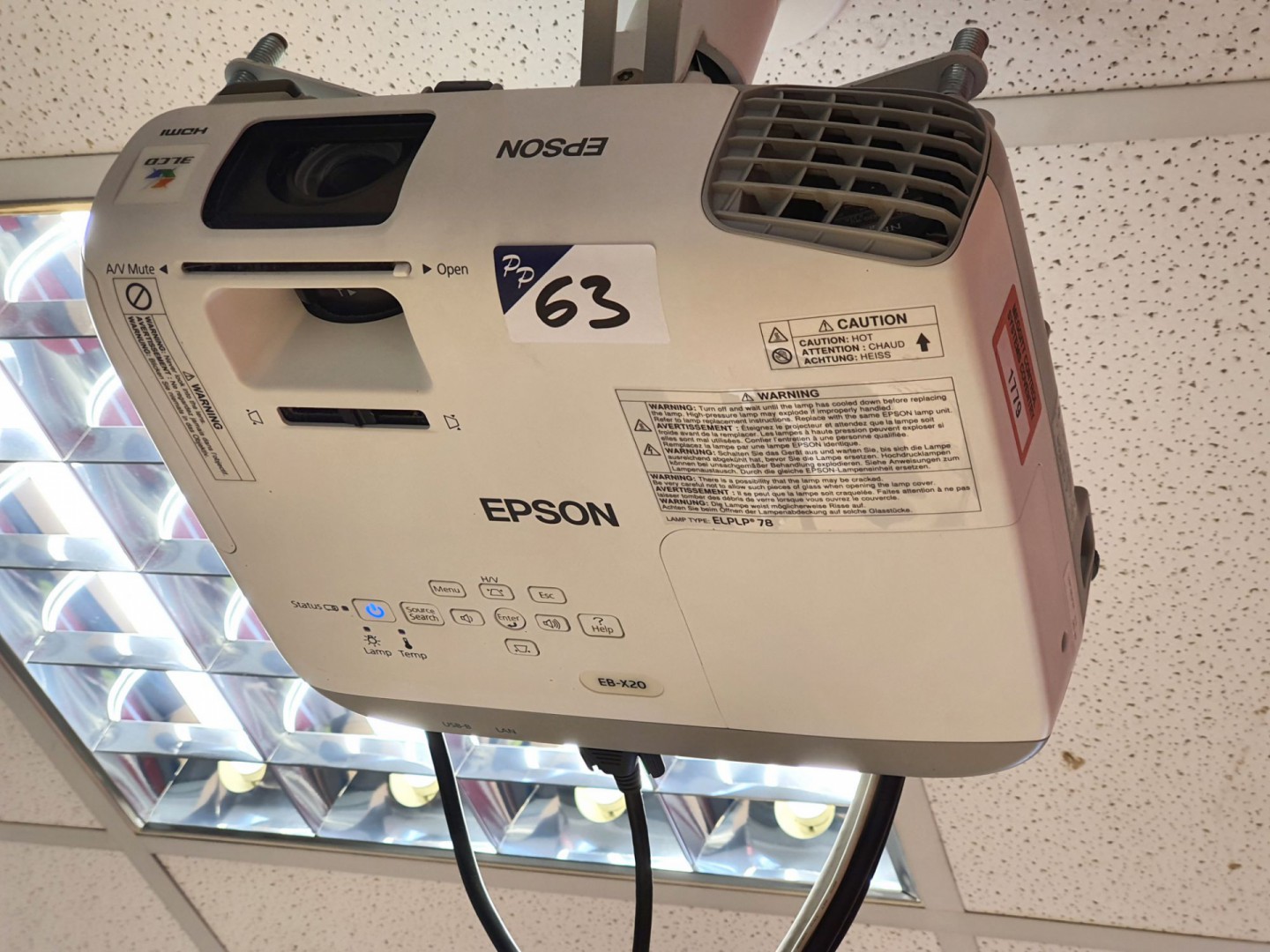 Description
Epson EB/X20 HD projector with Vision retractable screen - lot located at:- Coventry, Warwickshire
Auction - Meggitt PLC Phase 3
AIRFRAME SYSTEMS - SHEPSHED SITE:
Global Cutting Technologies GCT3S hydraulic swing arm cutting machine, 27 ton max cutting force, 1000x500mm table (2011)
Fogg & Young hydraulic heated press, 3400mm wide cap., down stroking, 3x heating zones, Eurotherm
Pneumatic cooling station, 3000mm wide capacity
4 column pneumatic cooling press / station, 48x48" platens, control
Scarf heated joining press, 400degC max temp on 58x24" bench
Schubert hydraulic heated double sided up stroking press, 168x24" twin bed area
Farrell Bridge mixer, steam / water pressure gauges, Burrell process timer, BHI control
Modus Air FX250 type H fully automatic dust extraction unit, 3kW (2011)
Vacublast Ventus 92S bead blast cabinet, single head, 850x850mm table (1994)
Carter twin head mill, 300mm wide capacity
Farrel Pomini type OOC A2 Velocita mixer, steam / water gauges, Leeds temperature recorder, ISF cabinet (1976)
Reed powered twin head mill, 1000mm wide capacity, m/c no: 5746 (requires new power cabinet)
Kemco Mondo 2000 measuring machine, 450x300mm granite bed
Hedenair through feed electric oven, 14.1kW, variable speed control, 450mm wide belt, Eurotherm controllers
Francis Shaw 3 roller calendar, 300mm wide rollers, fixed centre roll, adjustable top & bottom rolls, variable
Reed 3 roller calendar, 300mm wide rollers, fixed centre roll, adjustable top & bottom rolls, variable speed
Seiko SK-2B sewing machine, foot pedal controls, 1000mm wide table
2700x900mm twin vented cooling table
1800x900mm single vented cooling table
Hedenair electric fan assisted through feed oven, 300mm wide chain belt, calibrated to 320degC
Jervis 350x200mm bed press, heated top & bottom platens, Eurotherm controllers
Single roller shutter door drying cabinet, fan assisted, 900x900x1800mm internal dimensions
Mackey Bowley 4 column hydraulic press, heated top & bottom platen, mechanical guards, 400x350mm bed, Eurotherm controllers
Hydraulic press, heated top & bottom platen, mechanical guards, 900x900mm bed, Eurotherm controllers, MF 36-43 heater units - 200degC max temperature
Structual Diagnostics Inc SDI-5360 10 axis water C scan NDT machine (Water Jet Coupling (Squirter) Systems) on gantry, X= 192" / Y= 48" / Z= 60" scanning envelope, SDI 2420 linear / logarithmic amplifiers with PC & equipment, 18x6ft approx footprint (2010) - (dismantled & stored off site).


ENGINE SYSTEMS - COVENTRY SITE:

CNC
Kitamura Mycentre H400 CNC HMC, Fanuc Series 15-M control, 200 tool ATC, 300mm dia pallet, H400 supercell 20 station pallet loader, swarf conveyor (2001)
Kitamura Mycentre H300 CNC HMC, Fanuc Series 15-M control, 100 tool ATC, 20 station pallet loader, 180mm pallets, swarf conveyor (1999)
Kitamura Mycentre-3 CNC VMC 30 tool ATC, 520x1120mm table, Fanuc 11M control
Mazak Quick Turn 15 CNC turning centre, tailstock, 8 tool turret, Mazatrol Cam T-2 control, parts catcher, setting probe
Haas 4th / 5th axis, 180mm dia faceplate, Brushless Rotary Two-Axis control

Machine Tools
Jones & Shipman 1400 surface grinder, extraction, coolant, powerfeed, 10x5" mag chuck
Tschudin HT6400 external grinder, 3" CH x 18" b.c., coolant
Sunnen XBB-1660-CH horizontal precision honing machine with PF-150 coolant
Herbert 6 spindle inline pillar drill, 68x16" RF table, 106-1455rpm
Archdale vertical milling machine, 40x10" table, 79-2000rpm, Heidenhain DRO
Cincinnati horizontal mill, 54x12" table, 25-1500rpm
Amada Cutmaster HA-50 horizontal bandsaw
Small tooling / inspection equipment

Laboratory / Ovens / Process
EFCO bell furnace, overhead load / unload gantry (no hoists)
Industrial Furnaces gas fired furnace, 48" dia approx. with blower unit
2x Barlow Whitney electric ovens, Syrelec timer, 100, 300 & 500 degC test temperatures
VBJ Soundproof booth, twin door, 3x3m approx with manual handing load / unload gantry
Qty various Treston electronic / laboratory workbenches, built in drawers, lights, sockets etc
Pneumatic test booth & 4x various hydraulic test rigs
Qty various Binder, Carbolite etc laboratory ovens
Wheelabrator s/s 2 tank parts washer
Cleancell 750 s/s rotary parts washer
13 tank Nickel plating plant (some parts removed - spares or repair)

Factory Plant / Miscellaneous
Genie electric mobile pedestrian height access lifter
Jungheinrich EMC electric mobile pedestrian lift truck (2000) (spares or repair)
Freddy mobile oil / coolant remover
Slingsby & Newton mobile engine hoist lifts
CF forklift truck jib attachment & barrel attachment
Karcher HDS580 pressure washer
CSC type ICC-DC20-12 20ft metal shipping container (1995)
20ft green metal shipping container
Vacuum centrifuge / separator & filtration system with DCE Unimaster extraction unit
Plymovent extraction / filtration unit
Vapormate manual vaquasheen light media blaster (1995)
6x9m x 4m H (approx) temperature controlled office / partitioning (circa 2019)
Qty various partitioned offices, stores / work enclosures, partitioning etc
6x Boge type SRHV 470-10 piston compressors, 18.5kW, 40 bar discharge pressure (2015) with Boge controllers & 3x air receivers
Ingersoll-Rand Centac centrifugal oil free compressor on skid with Igranic starter (1998)
Reavell 'V' type high pressure compressor, 45kW
Beko Drypoint RA air dryer, 1500m3h (2014)
Abbott 3320ltr air receiver (2015)
Beko twin high pressure receivers
3x4m (approx) mezzanine floor, staircase, handrails, lights, 6 pillar
2x Heatrae 155kW electric oil heater, Heatrae control panel
Pneumatic products 3600CHA regenerative desiccant compressed air & gas dryer system
Qty various Holtite 250kg swl etc wall mounted swing jibs
Qty mobile storage holders, trolleys etc
Qty tipping skips, pallet racking, storage racking / shelving, workbenches, cabinets, flammable storage cupboards, material bar racks, plastic storage boxes & trays etc
Qty office furniture & equipment inc: office desks, tables, chairs, filing cabinets, Bisley storage cupboards, sideboards, meeting tables, boardrooms, reception, canteen, whiteboards / projectors, lockers, etc.