Optical Gaging Products Smartscope FOV250 measure...
This item was sold in one of our on-line Auctions / Sales. We may have similar items available in our forthcoming Auctions, or if you have equipment to sell please contact us for free valuations, advice etc - Tel: 01778 590111 / Email: info@ppauctions.com or please get in touch with us via our contact page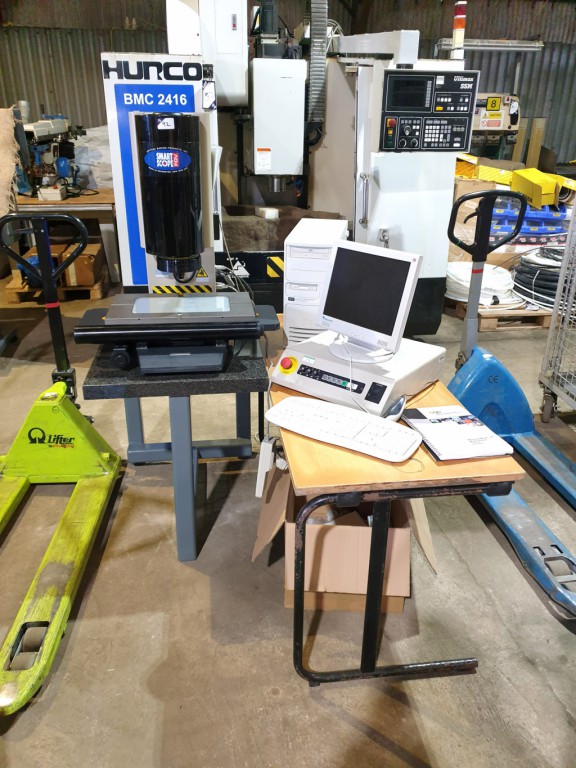 Description
Optical Gaging Products Smartscope FOV250 measure mind 3D multi sensor microscope (1997) with control, PC etc, 500x300mm RF table, (hard drive removed prior to collection - software CD included) - Lot Located at: PP Saleroom, Aunby, Lincolnshire
Auction - February Collective Sale - Engineering
CNC / MACHINE TOOLS / SHEET METAL / WELDING
XYZ Vulcan 1010 CNC VMC, Siemens 810D Sinumerik control, BT40 spindle, 20 tool ATC, 4th axis (2000)
Hurco BMC2416 CNC VMC, 750x400mm table, 8000rpm, 24 tool ATC, Ultimax SSM control, swarf conveyor (1998)
XYZ Proturn CNC lathe, 10" CH x 50" b.c., Proto Trak LX3 control, 15-3000rpm (2000)
XYZ Proturn-410 CNC lathe, 410mm swing x 1250mm b.c., Proto Trak LX3 control, 15-3000rpm (1999)
2x Unison Corporation 2100 CNC flexible grinding systems with tooling, Dedtru attachment, Unison control
Elliot 618 surface grinder, power rise & fall wheel head, mag chuck
GP centreless grinder, 20" dia x 5" wide wheel, MDRO MDC700M DRO, control, coolant (rebuilt 2008)
GP centreless grinder, 20" dia x 8" wide wheel, Mitutoyo DRO with control, coolant
GP centreless grinder, 14" dia x 4" wide wheel, M-DRO MDC700M 2 axis DRO (rebuilt 2008)
GP centreless grinder, 14" dia x 4" wide wheel, coolant
GP M2120 centreless grinder (1979) (dismantled)
Omerod 6" vertical slotter, 50-100SPMGHZ sliding head table saw, 1200x1000mm table
Promecam RG-25-12 hydraulic pressbrake, 25ton capacity, Cambrake Infrared Guard mk2 light guards
Sciaky (Mandrian) RAML100 seam welder, 100kva, Pulsar control, timer, 1000mm throat, Wilkinson Star chiller
ElectroArc 2-DBQT metal disintegrator, 10kva
Deca Star 270E welder (no nozzle, unused)

LABORATORY / INSPECTION
Design Environmental Alpha 190-40H environmental chamber (2008)
Prior Clave PS/QCS/EH100 autoclave, Tactrol 3 control (2020)
Prior Clave Midas 32 autoclave (1996)
Newport 1500x900mm antivibration table
Sartorius LE2445 digital balance scales
Optical Gaging Products 250CFOV smartscope (1997)
Avery Weightronic 12kg capacity digital scale
2x Astec Monair fume hoods. Genlab warming cabinet
2x Airone 1000-GS fume cabinets, 1000x750x1500mm (1999)
Grant SBB Aqua 12 water boiling bath
2x Harvard 55-0723 volume controlled ventilator
3x Mettler Toledo BBK 422-3XS balance
2x Olympus BHM microscope + TGH control unit & PL-A662 camera
Mituoyo B-706 manual CMM, 1280x1000mm approx granite bed with probe, equipment, PC etc

FACTORY PLANT / MISCELLANEOUS
Citroen Relay 35 L3H2 Enterprise HDI long wheel base van, white, 2198cc diesel engine, manual gearbox, 113,000 miles (warranted), air con, MOT until 04/2022, 12 Reg
JLG Toucan 1210 mobile cherry picker (MWEP), 4.2x1.4x2m approx dimensions, 5.3ton (2008)
Grove Toucan Manlift 1150 electric pedestrian lift, 265kg cap, 11m lift height (1997)
Doosan G20SC-2 gas forklift truck, 2000kg capacity, double mast, side shift (2004)
Hyster S100 gas forklift truck, 10,000lb capacity with forks & jib attachment
Haloila Ecomat Plus auto pallet wrapping machine (2017)
RoboPac RotoPlat 106 auto pallet wrapping machine (2007)
RoboPac RotoPlat 508PDS auto pallet wrapping machine (2015)
11x various BT, PFAFF etc manual pallet trucks to 2600kg capacity
2x BEL 185 automatic tape machines
Little David LC40 automatic tape machines
Tennant T7 Fast Ride floor sweeper with charger (2006)
2x lift tables, 1400x1100mm
Hymo mobile hydraulic lift platform trolley, 1800x900mm platform, 500kg SWL (2004)
2x mobile forkable tipping skips
Airbench FPK069084 filtration bench, 600x950mm (2018)
2x secure container inc: air conditioning, heating & lighting units, 6.055m (L) x 2.43m (W) x 3.05m (H) approx dimensions including integrated caged enclosure (2017)
Foster FSL800L stainless steel fridge, 1200x700x1900mm, twin door
Foster stainless steel fridge, 600x700x1900mm single door
Comenda LF324M RCD dishwasher
Hotpoint Aquarius dishwasher
3x Duronic desktop elevation stands
HP Large format printer
P2000B7 digital platform scales
Goodscale GSC-9760 digital platform scales
Phoenix Safe Commander 1900 Series data safe, keypad
Ultrapac MSD0050 heatless regenerating absorption dryer & receiver
Qty various storage trolleys, flammable liquid cupboards etc.