ABB electric motor, 1.1kW, 1420rpm & similar ABB e...
This item was sold in one of our on-line Auctions / Sales. We may have similar items available in our forthcoming Auctions, or if you have equipment to sell please contact us for free valuations, advice etc - Tel: 01778 590111 / Email: info@ppauctions.com or please get in touch with us via our contact page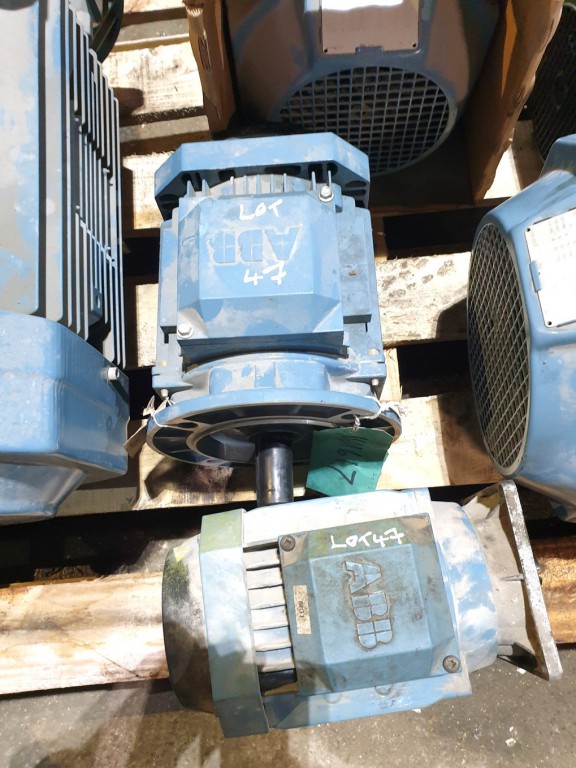 Description
ABB electric motor, 1.1kW, 1420rpm & similar ABB electric motor
Auction - Bison Precast - Stores
Contents of stores moved for the convenience of sale (over 200 lots) -
Large Qty maintenance equipment and spares (some packaged & unused) including:

Newlec, Eltra, SEW, Balluff, Lenze, Siemens, REO, Castell, Schrader, Air Liquide UK, ESA, Rotex, Kingspan, Vibac, DryLinT, Vent Axia, ABB, Fletcher Moorland, Evian, Breyini Iduttori, Fibox, Lucas, Schneider, Esab, Thame, Sick, Cam Logics, Rexnord, Klaxon, Ital Vibrators, NVC, SKF, Clarke, Pitacs, WEG etc

LED 3hr bulkheads, wireless extenders, fitters, incremental encoders, electrical switch interlocks, inverters, LCD screens, pneumatic actuators, pipe fittings, light duty racking, Kooltherm pipe sections, pin discs, wire rope, rollers, wheels, cable trays, bearing housings, duplex chain, hopper boxes, fans / blowers, socks, motors to 75kW, gear boxes, floor cleaning brushes, enclosures, multicore cables, rubber seals, Tig rods, safety switches, level gauges, shaft lock nuts, stainless steel collars, taper lock bush, movidrive, chain sprockets, Combilift drive motors, vibratory motors, valves etc.