Cannon single door mobile server cabinet, 1300mm h...
This item was sold in one of our on-line Auctions / Sales. We may have similar items available in our forthcoming Auctions, or if you have equipment to sell please contact us for free valuations, advice etc - Tel: 01778 590111 / Email: info@ppauctions.com or please get in touch with us via our contact page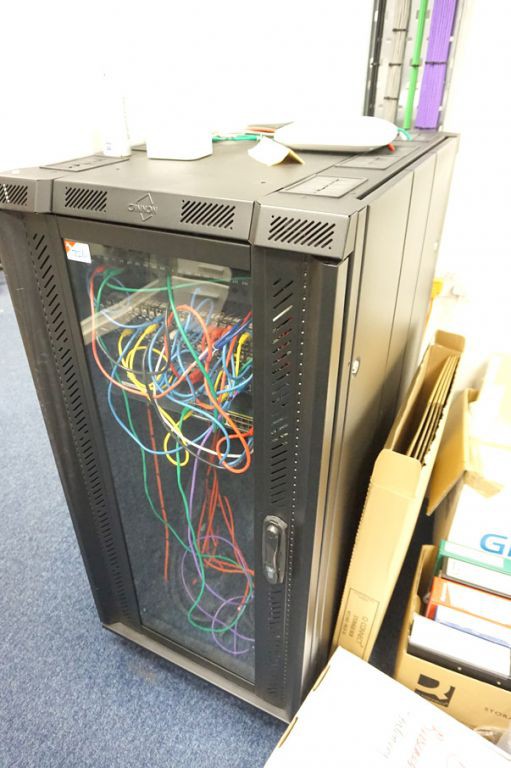 Description
Cannon single door mobile server cabinet, 1300mm high (contents not included)
Auction - Encompass Digital Media Ltd
Over 900 lots of high quality media / broadcasting equipment including:
Qty various Apple Mac Pro base units, HD monitors, Gold 2 way loudspeaker system, M-Audio AV40 speakers, Behringer MS40 digital 40W stereo near field monitors etc
Qty Cisco, Huawei, Extreme Network D-link, Dell, HP etc rack type servers, switches, smart switches etc
Spectra T950 tape library, colour LCD touchscreen, hot swappable drives
ARG Electro Design Easy 2800 Ethernet switches
Sonifex Redbox RB-SM2 stereo to mono converters
Behringer Ultra Link Pro MX882 ultra flexible 8 channel splitter / mixer
Sonifex Redbox RB-SD1 silence detection unit
Harris Intraplex Netpress, Audio STL-IP live broadcast over IP network
Sonifex RM2510 expansion port reference monitor. Hamlet DS9000 digiscope
TSL AMU72-8HD audio monitoring units. Grass Valley Storm 3G Elite multi I/O processor
Evertz 5600MSC master clock / SPG. Evertz 5600ACO2 automatic changeover
Tektronix SPG422 component digital sync generator
Qty dB, Argosy etc MDUs, patch panels, Ulink panels, etc
Link Electronics Digiflex 1000 mounting frame. Evertz 500FR Compact Distribution Frame
Evertz 400FR Exponent compact high density balanced audio distribution frame
Evertz Quartz CP-3200A router control panel. Motorola GM360 two way mobile radio.
Riedel Artist 64 advance communication platform. Harmonic Vibe EM4000 premium HD/SD encoder
Evertz 7800FR-QT multiframe chassis. Black Magic Design Smart Video Hub 40x40 UltraHD Mixed Format Router, Evertz EQT-32x32 router. Harmonic encoders. Tandberg Remux MX5210 remultiplexer
Tandberg TS Processor TT6120 transport stream processor
Tandberg E5710 mpeg2 encoder. Tandberg TT1222 digital receiver
Tandberg Livestream Encoders SD. Scopus IRD-2900 Professional receiver decoders
Canford rack mount monitor. CCS Audio Products CDG Prima 120 audio codec
Sony J-3 compact player. Tiernan TDR600 MPEG 2 decoder
Soniflex Redbox RB-ADDA A/D & D/A converter. Miranda Densite 3 frame. Data Video TWU-404 monitors
TSL AMU1-CHD audio monitoring unit. Image Server 360 systems broadcast time delay. AEQ Caddy AD & DA convertor. Eyeheight uni panel. M-Audio Delta 1010 digital recording system. Mikrotik 1200 Routerboard rackmount router. Black Magic Design control. Snell & Wilcox CVR45 standards convertor
Ideas Unlimited content probe. Tektronix WVR 611A waveform rasterizers. Teradek controller
Eriksson TT122 controllers. Klark Teknik DN504 quad comp limiter compressor
Aphex 320 Compellor stereo audio level controller. Qty Grass valley (Plubtronic) MPSBV video servers
Pixel Power H105 CLARITY broadcasting editing processor. LG Oscilloscope, Phillips PU3215 oscilloscope
HP 54602B oscilloscope. Panasonic AJ-D650 digital video cassette recorder
Sony DVW-A510P digital video cassette player. Sony MSW-M2100P digital video cassette player
Tektronix WFM601M serial component monitor. Thomson DCR 850A digital video cassette recorder
Marshall V-R151DP-AFSD rack / desk top LCD monitor. Behringer RX1202FX Eurorack Pro mixer
DBX 1046 quad compressor limiter. Snell & Wilcox Mach 1 m.s.c standards convertor
Sony HDU 1080i DV cam. Sony UVW-1400A video cassette recorder
Qty various studio monitors, LCD monitors etc inc: Sony, JVC, Samsung etc to 47" approx
Vision 360 CCTV controller / multiplexers. Tandberg E5720 encoders. Thomson Vibe CP6000 contribution platform. Harmonic encoders. Harris FR6822+, 6800 Plus video router. Evertz PCP-C processor
Supermicro load balancer. Snell Kudos Plus CVR900 standard convertors. Ericsson RX8200 receivers
Miranda ImageStores master control processor. Ericsson Viceland. Axon SFR08 modular media systems frame. Telestream Pipeline Quad encoder. Harmonic Spectrum X advanced media server
Grass Valley K2-Edge playout server. Integrated K2, TX main servers. Dell MD1200 Power Vault direct-attached storage array. Black Magic Pal. Miranda Softel Oliver SE3067 Cue Decoder
Triax TMP 5X12 multi switch. Advanced Digital ADV-6400 4 channel professional quad HDTV IRD
Receiver decoder. Teraeve chassis. C-Path 1 VX8000e. Appear TV XC5100 1RU Chassis, XC500
Cisco D9824 advanced multiple decryption receiver. Ateme Kyrion DR500 single channel multi-CODEC IRD
Profline SDV triple DVB demodulator. ASC signal next controller (2013)
Research RC1000A antenna controller. Coship CDVB5110G rack mountable receiver
International Superflex Pro audio receiver. Coship CDVB2000G digital satellite receiver
SBS flex rack modular system chassis. Rane ME15B graphic equaliser. Soniflex PS play IP-Audio streaming decoder. Audio Design Pro DAB2 professional DAB receiver. Behringer GEQ3102 graphic equaliser
Axia audio AES/EDU4X410 NODE. AEQ Eagle dual channel audio codec. Pulsc DMP-100 CD player
Telos Zephyr digital network audio transceiver. Numark CDN22 mk4 CD player & head unit
Cambridge Audio DAB300 digital tuner. Audionics MCX2 audio router. Telos ZIP One codec
Soniflex Redbox RB-DSD8 8 channel silence switch.
Inovonics 260 Stereo Broadcast processor receiver
Wharton Electronics 482 master clock. Omina AX 8x1 Telos processor. Belkin Omiview Pro 16 port KVM switch. Alice Match Rack Pro interface. Behringer MX882 Ultralink Pro ultra - flexible 8 channel splitter / mixer
TSL dual rack monitor. Screen Polistream U4000 subtitling system. Arbitron 1180 Series encoder. Miranda Kaleido X16 16channel HDSDI / 3G multi viewer. Isilon IQ 10000 X-SSD NAS server. Axon SFR18 modular media system. DigiDesign C24 desk top mixer. Wohler AMP2-16V series dual monitor. Wohler AMP2-S8 series digital audio monitor panel.
Ericsson ES710 encoders. Cable reels.
Harris Platinum Series amplifiers. Genlec speaker stands, flight cases. Omneon MediaDeck media servers. Bluebell communications chassis
Riello master HP UPS with Yuasa SWL3300FR batteries (2018)
HP server racks, Vertiv, Emerson Network Power Liebert Hiross HPM A/C units (2007)
Qty Schneider Electric Uniflair AM cooling system
Qty various size Lundhalsey, Custom Console module-R studio desks, control console desks etc
2400mm wide Oak effect curved reception desk
Qty various white metal frame meeting tables, to 2x1m with Gresham black leather effect chairs (2015)
Qty various Greshin, Herman Millar, KAB, SIDIZ, Tobias office / studio chairs
Qty various office furniture inc: sofa's table, 2 door storage cupboards, British storage multi-shelf racking etc
Evacusafe evacuation chair & various A/C units, etc, etc.