Swift type 8V3 heavy duty toolroom gap bed lathe,...
This item was sold in one of our on-line Auctions / Sales. We may have similar items available in our forthcoming Auctions, or if you have equipment to sell please contact us for free valuations, advice etc - Tel: 01778 590111 / Email: info@ppauctions.com or please get in touch with us via our contact page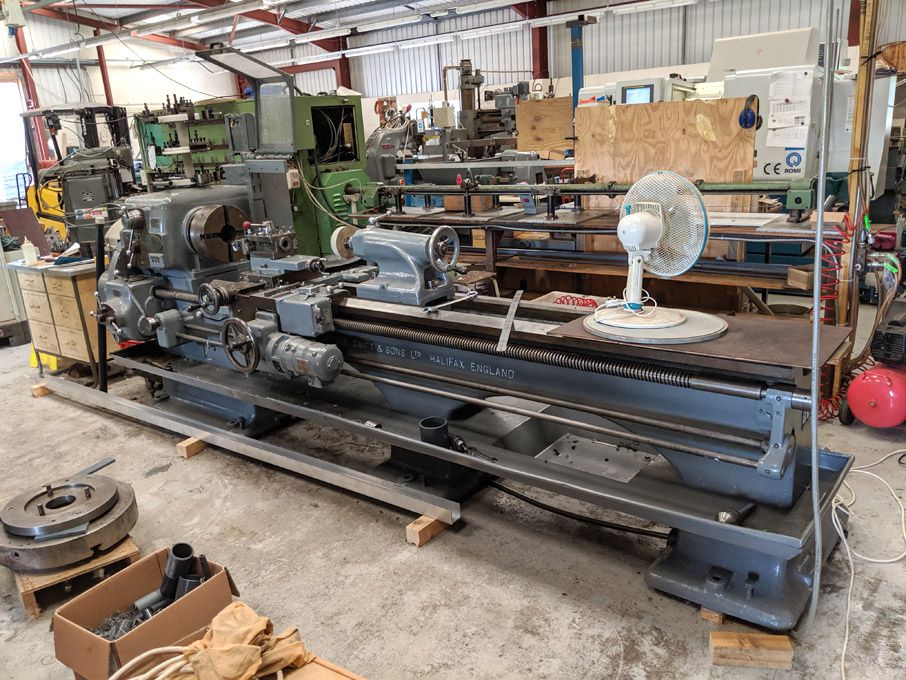 Description
Swift type 8V3 heavy duty toolroom gap bed lathe, 10" CH x 96" b.c., 33-1200rpm with tooling
Auction - A C Plastic Developments Ltd
CNC
Romi GL170G CNC turning centre, Fanuc Series 0i-TD control, 6000 rpm, bar feed, 1223hrs (2015)
King Rich DPM CNC turret mill, Proto Trak MX3 control, 70x3600rpm, 1370x350mm table, tooling (controller 2011)
Acra FVTM-5V CNC turret mill, Anilam 3300MK control, 1480x320mm table, 50-3750rpm, tooling, s/n 990589
Ajax Premier 310 CNC lathe, Fagor control, 12" CH x 42" b.c., manual bar feed, s/n 349-81350831 (1996)
Avon CNC lathe, 8025 Fagor control, bar feed, 80-2100rpm, 6" CH x 36" b.c., 97124hrs

Machine Tools
Mitchell gap bed lathe, 8" CH x 48" b.c., 22.5-750rpm
Swift type 8V3 heavy duty toolroom gap bed lathe, 10" CH x 96" b.c., 33-1200rpm
Boxford modelmakers lathe, 210-1400rpm, 100mm CH x 400mm b.c.
Smart & Brown capstan lathe, 147-3000rpm, bar feed, collet chuck, 6 head turret
Tour 16 Vitesses type 40P 120 6 turret capstan lathe, 150-3070rpm, collet chuck
Ward No10 HD lathe, Adtech CNC4620 control, 16" CH x 72" b.c., 80-2100rpm (retrofitted 2017)
Colchester 5x20 Chipmaster lathe, 35-3000rpm, 5" CH x 20" b.c., inverter drive
Beaver / Richmond modified bed mill, 2000x900mm T-slotted bed, Beaver MK2 head
Deckel FP2 universal mill, 700x240mm table, 40-2000rpm with slotting & dividing head
Clarke Metalworker CBSH5MD 6" bandsaw, 240v (2017)
MIVA 250 pull down saw (2001)
Pedrazzoli Delta Brown upstroking saw, 6" vice, 250mm dia blade
Wolf WD6B drill on stand, 240v
Perform CCWSG wet / dry grinder, 240v (2004)
Kobe CRB150 6" D/E bench grinder (2001)
Clarke CBG-8RS 200mm D/E bench grinder
Startrite Mercury single spindle bench drill, 14x12" RF table, 95-3830rpm, 240v
Startrite Mercury single spindle bench drill, 8x9" RF table, 350-2580rpm
Sealey GDM-50A/5/B single spindle bench drill, 230mm dia RF table, 450-3000rpm, 240v

Qty small tooling inc: tapping heads, tips, drills, turning tools, dies, collets, taps, saws, vices, cubes, rotary tables, etc
Qty inspection equipment inc: height gauges, verniers, levels, micrometers, digital height gauges, set squares, dial clocks, etc

Woodworking
Sedgwick table saw, 300mm blade, 800x700mm table
Wadkin Bursgreen HD woodworking vertical bandsaw, 27" throat, 30x30" table
Wadkin 30" double disc sander, 34x17" tables, 1000rpm, 5HP
Clarke CS6-9 belt disc sander, 6" wide belt, 240v
Wadkin bobbin sander, 26x25" table, 3.5" dia spindle
FELL MFG HD woodworking lathe, 72" b.c., s/n 2176
Wadkin woodworking router, 24" throat, 40x36" table
8" wide powered planer

Factory Plant / Miscellaneous 
Yale GLP25TF gas forklift truck, triple mast, 2140mm closed mast height, 4950mm max lift height, 2380kg capacity, sideshift (2000)
Lansing FOER 15.11.6PFL electric forklift truck with charger, 1600kg capacity, 3800mm max height, 2400mm closed mast height
Ausa CVA-20 all-terrain diesel forklift truck, 3636hrs, side shift, 2000kg capacity
Sherpa lift truck, 77" lift height, 800lb SWL with Minilift winch
BT Highlifter 1000kg capacity pallet truck, 1190mm max lift height
Philips 200amp welder. 82x28" CI surface table
Bridgeport turret mill head
Ingersoll Rand 30 compressor on air receiver (spares or repair)
2x ERP etc 240v compressors on 50ltr air receiver (1998)
2x Perform CCDE500 240v extractor (2003)
Belle Mini 150 240v cement mixer (1996)
Mounty 5 step mobile safety steps
2x single wheel axles
Dexion, Polstore, Stack-on etc storage cabinets, work benches, cupboards etc
Qty power tools inc: Hitachi, Bosch, Titan, Axminster, Evolution, Toledo, etc, saws, routers, drills, sanders, pull down saws, etc
Qty various jacks, skates, axle stands, retractable 240v extension leads etc
2x drawing chests, Bar / stock racks, etc
Contents of containers inc: Qty racking, (materials stock - PTFE, Perspex, nylon, PVC, ABS, polycarbonate, etc, rod, round, flat, tubes, sheets, etc), wood & metal stocks, electrical spares, cables, sockets, acrows, oils, liquids etc
Office: Scales, display cabinets, filing cabinets, desks, chairs, boxes, etc
Digging shovel attachment
Qty roof tiles (60 approx)
Titan 750ltr fuel tank
Bottle trolley & cutting torch, mobile trolleys etc
Qty various wooden pallets, office furniture etc etc.