Tenga 900x600mm granite surface table
This item was sold in one of our on-line Auctions / Sales. We may have similar items available in our forthcoming Auctions, or if you have equipment to sell please contact us for free valuations, advice etc - Tel: 01778 590111 / Email: info@ppauctions.com or please get in touch with us via our contact page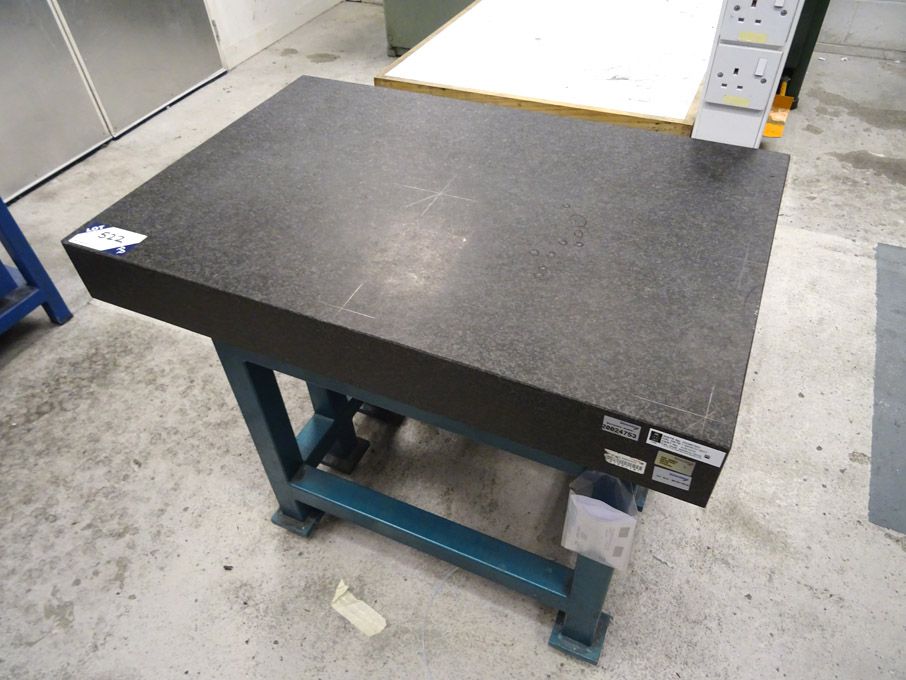 Description
Tenga 900x600mm granite surface table
Auction - British Airways Component Engineering (BACE)
OVER 800 LOTS:-
Machine Tools / Sheet Metal
Mostana 2450A vertical jig borer, built in rotary table, 1100x640mm table, Sony 3 axis DRO
Fobco single spindle drill, 51-2650rpm, 500x450mm RF table
Startrite Mercury single spindle drill, 563-3830rpm, 220x220mm RF table
2x Meddings single spindle pillar drill, 100-3000rpm, 280x250mm RF table
Corona 21AR single spindle pillar drill, 52-722rpm, 300mm RF table
Draper HD19/16C single spindle bench drill, 350mm RF table, 190-2900rpm
Meddings bench drill, 500-4800rpm, 280x260mm RF table, s/n DT19197
Meddings MB10 bench top drill, 3000-12000rpm, 175mm dia table
Jones & Shipman 1307 universal grinder, raised centres, Heidenhain DRO, swivel internal, 7" CH x 40" b.c.
Victa Eagle surface grinder, 10x5" mag chuck
Delapena Speedhone EM electronic horizontal honing machine, 200-2500rpm
2x Delapena Speedhone horizontal honing machines, 250-1000rpm & 375-1500rpm
Lapmaster 36 lapping machine, 36" dia.
Lapmaster LM 24 lapping machine, 24" dia (2009)
Lapmaster 15 lapping machine, 15" dia
Bridgeport turret milling machine, belt head, power feed, 67-4600rpm, 36x9" table, Heidenhain DRO
Bridgeport turret milling machine, belt head, 42x9" table, shaping attachment, 67-4600rpm, Heidenhain DRO
Imet Sirio 315 pull down mitre saw (2015)
Startrite 316H vertical bandsaw, 36" throat, 26x26" powered table, 22x13" auxiliary table
Colchester Master 2500 gap bed lathe, 6" CH x 40" b.c., 2500rpm with tooling
DSG 1307x40 gap bed lathe, 20-690rpm, 7" CH x 40" b.c., Mitutoyo DRO
Swift 12V6 heavy duty gap bed lathe, 13.5-630rpm, 12"CH x 60" b.c., Heidenhain DRO
Edwards 4ft x 16swg treadle guillotine. Edwards manual roller on base
4x Sealey YK30 30 ton hydraulic garage press
Hi-Force HPF2520 hydraulic garage press, 25 ton capacity, adjustable height
ENL garage press, Enerpac hydraulic unit. Enerpac hydraulic garage press
4x Jones & Shipman S8601-003 manual press on base
Norton 6DB deep throat fly press on stand. Norton 6A fly press on stand
Edwards manual lever press on base
Joyal 30/MIT-TG spot welder and microprocessor control

Pneumatic, Hydraulic, Oil & Water Test Rigs
ADI Technologies 9790-D063 low flow high pressure pneumatic test rig, 6.44PPM at 550PSIG, 3x Hastings power supplies, model 40, Druck DPI 145 digital pressure indicator, Druck Pace 500 pressure controller (1998)
AAI pneumatic test cell, 10lbs per minute flow rate, 600PSIG pressure rate (Test Cell 1)
Pneumatic test rig with 3x Druck DPI 101 digital pressure indicators
Pneumatic pressure chamber test rig, 500mm dia approx
AGE 838 MkII pneumatic test rig, s/n X1596/1
Pneumatic test rig with Edwards 80 1 stage vacuum pump, 2x Druck DPI 101, Druck DPI 140 digital control
Fixed rig Air pneumatic test rig, 3x Druck DPI 101 digital pressure indicators
Applied Pneumatics pneumatic test rig with 3x druck DPI 101 digital pressure indicators
Mobile 600mm dia x 850mm long vacuum chamber
Mobile Scott McArthur vacuum chamber. Qty various small test chambers
American Avitron TP85 Governor test rig (1971)
Woodwood 8021001 ball screw efficiency test rig with controller, stairs, electric hoist
UTAC Viceroy MkII oil cooler test rig
Test & Process Plant oil cooler test rig. Water test rig, 1800x1200x1200mm tank
Eland test plant flushing rig, 1hr cycle time
2x Sundstrand Aviation GTSC-200 governor test stands
Howden Wad Thermal Control ISS1 hydraulic testing rig (1995)
Howden Wade Thermal Control hydraulic testing rig

NDT / Laboratory / Inspection
Magnaflux H600 crack detection unit, 149A intermittent rating
Magnaflux crack detection unit
2x Carbolite PF200 electric ovens, 300degC, 240v, 600x500x700mm ID
Gallenkamp Plus II electric oven, 300degC, 460x440x450mm ID
2x Gallenkamp Plus II electric ovens, 300degC, 460x440x600mm ID
Royce fan assisted electric oven, 600x700x650mm ID, 120-600degC, ABB PX100 chart recorder, 15kW
AEW electric oven, 450degC, s/n 65078
Hedinair electric oven, 600degC, 550x1100x600mm ID
Hedinair electric fan assisted oven, 650degC max temp
Hedinair double door electric oven, 12kW, 1800x1000x600mm ID
Hednair fan assisted electric oven, 4.7kW, 600x600x600mm ID
Hedin electric oven, 300degC, 500x500x500mm ID
AEW electric oven, 450degC, 600x600x600mm ID
AEW electric oven, 600degC, 500x450x450mm ID
Barlow Whitney electric oven, 300degC. Pura 2000 Clean Air work station
4x Avery 110LBS spring testing machines, 220lb, 150lb, 110lb & 15lb capacity
Crown & Windley grade B 72x48" surface table on levelling base
Tenga 900x600mm granite surface table
Crown & Windley 24x18" grade A surface plate
Weigh-tronix 3608 digital platform scales, 25kg capacity
Large qty of calibrated equipment including: inspection, laboratory, electronics, maintenance etc

Factory Plant / Lifting
3x Ingersoll-Rand Centac MX157MB centrifugal oil free air compressor on skids, 950kW, 2977rpm, Centac Micro controller (1998)
Delair DB-33S pressurised dryer system, 129kW, 16bar, 180degC (1998)
Konecrane 1.6ton overhead gantry crane, pendant control, 12m span approx.
Konecrane 1.6ton overhead gantry crane, XN10 electric hoist, pendant control, 12m span approx.
Konecrane 320kg twin girder gantry overhead crane, 6ft span approx., Konecrane electric chain hoist, pendant control (2013)
Kone 1ton twin girder gantry crane, XN5 electric hoist, pendant control, 7m span approx (1999)
Demag 500kg overhead gantry crane, 14ft approx span with Demag 500kg electric hoist, pendant control
2x Demag 500kg overhead gantry cranes, 12ft approx span, Demag electric chain hoist, pendant control
Demag floor mounted swing jib, 125kg SWL, 10ft span approx, pendant control
Konecrane girder mounted swing jib, 125kg SWL, XNZ electric chain hoist, pendant control
Single girder gantry with 125kg manual hoist

Miscellaneous
Turbex V31 W range 10 tank chemical cleaning line, 30kg SWL overhead loader, 900x600mm tank size (2012)
CC Hydrosonics Solvac TA chemical cleaning plant, 1000x300x300mm basket size with loader, Solutex Solvent recovery system, SVIM25AXC2U2 (2007)
Flushing / Cleaning station with chain hoist. Bendix 60B17-1B universal magnet charger
Dalby Pressure spray booth, 8x4.5m approx. footprint, 2x twin doors, 7043hrs & 7403hrs
3x Constructor Group IPN paternoster, IPN 10 2-620-430-4100/26, 1x twin opener, 10400kg max load, 4100x430x620mm shelf size, 26 shelves, 7.7m high, 525kg per shelf, Siemens touchscreen control
Vacublast International Ventus 125PBM shot blast with shot blast recovery and extraction (1999)
USF Vaqua 92 bead blast cabinet, 2kW (2003)
Vacublast Ventus 72S bead blast cabinet, 1kW, 240v (1995)
Taumel Bodmer T80 pneumatic riveting machine, 1500rpm, 0.37kW (1999)
Qty Nortek 2000x850mm workbenches with built in sockets, storage units
Qty Welconstruct workbenches, 2400x850mm with 2x mobile drawer units and bench vice
Qty various size Welconstruct, Dexion, Lista, Susta etc multidrawer storage cabinets, flammable storage cupboards, mobile trolleys, racking, plastic storage bins, Enerpac hydraulic units, test rigs, hoovers, fan heaters, fans, Office furniture, canteen tables etc
CFM 137/60 industrial vacuum, 3kW, 240v (2000), etc.