Miyano BNC-34 C2 CNC turning centre, 34mm max dia,...
This item was sold in one of our on-line Auctions / Sales. We may have similar items available in our forthcoming Auctions, or if you have equipment to sell please contact us for free valuations, advice etc - Tel: 01778 590111 / Email: info@ppauctions.com or please get in touch with us via our contact page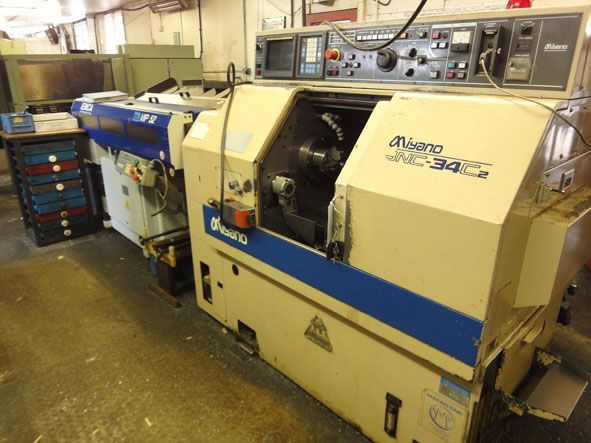 Description
Miyano BNC-34 C2 CNC turning centre, 34mm max dia, length 100mm, 8 station turret with parts catcher, Fanuc series O-Mate T control s/n BB30262C, with cabinet, equipment & collets, with IEMCA VIP 52 short magazine bar feed (1997)
Auction - Ilsley & Challis Engineering Ltd
CNC inc: Mazak Super 10MS CNC lathe (1999), Miyano BNC20 CNC lathe (1991), Miyano BNC42 CNC lathe (1996), Miyano BNC 34 CNC lathe (1995), Okuma LB15 CNC lathe (1990), Tornos Bechler 25 sliding head auto (1996), Bridgeport 460-12 CNC VMC (1993).
Machine Tools / Inspection inc: Colchester 2500 centre lathe, Gate turret mill, Arboga mill/drill, Meddings 3 Spindle drill, 48" rumbler, Qty small tooling & inspection equipment, etc.