4x Moore & Wright etc micrometers to 5-6"
This item was sold in one of our on-line Auctions / Sales. We may have similar items available in our forthcoming Auctions, or if you have equipment to sell please contact us for free valuations, advice etc - Tel: 01778 590111 / Email: info@ppauctions.com or please get in touch with us via our contact page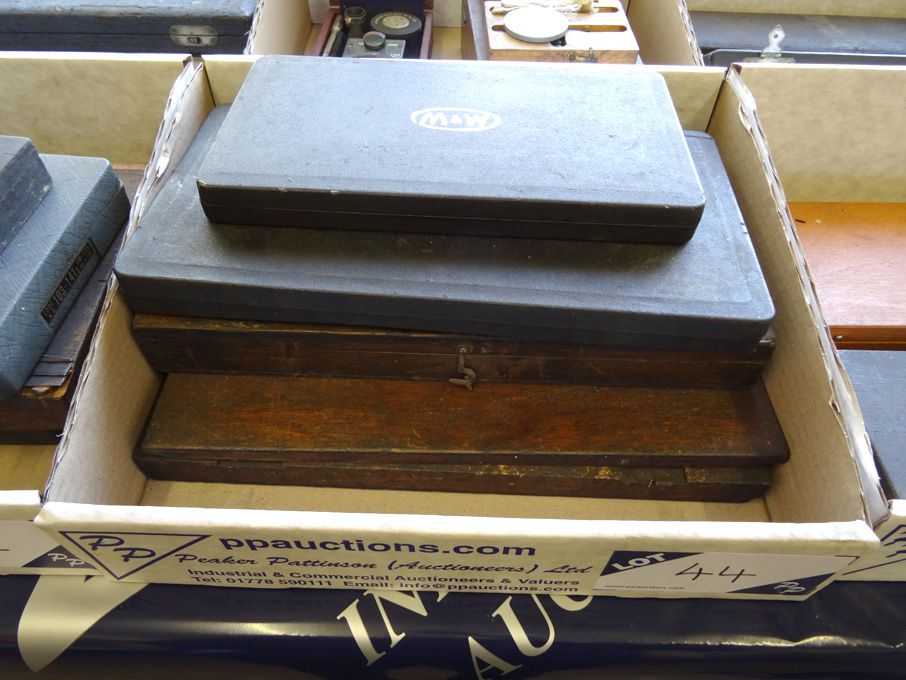 Description
4x Moore & Wright etc micrometers to 5-6"
Auction - The Estate of Anochrome Jigs
Machine Tools
Richmond SR2 36" radial arm drill, 100-1500rpm, 750x550mm RF table
WMW BS25 heavy duty single spindle pillar drill. Union single spindle bench drill, 12x10" RF table
Pollard Corona single spindle pillar drill, 12x10" RF table, 1900-6050rpm
Stancroft single spindle pillar drill, 14x14" RF table, 0-1500rpm
Jones & Shipman single spindle pillar drill, 12x12" RF table
Archdale 3 spindle in line drill, 40x16" RF table, 450-2900rpm
Thule TPH-1000 surface grinder, 24x8" mag chuck, coolant
Churchill universal grinder, 6"CH x 30" b.c., drop down internal, 12" max dia wheel, 1750rpm
Jones & Shipman 1314 universal cylindrical grinder.
2x Wolf etc 8" d/e grinder. 6" bench type d/e grinder, 240v. Superior 8" heavy duty d/e grinder on base. Vanco Flexiband 2B 2" vertical belt linisher. RJH Bandfacer 100mm wide belt linisher.
Canning twin spindle polisher.
Bridgeport turret milling machine, 42x9" table, 67-4600rpm, Acurite III DRO, slotting attachment
Edgwick universal milling machine, 1160x280mm table, 24-405rpm
Addison Jubilee AH320C automatic horizontal bandsaw, 300mm wide conveyor
Pedrazzoli Mec Brown Nova pull down saw, 250mm dia saw blade
Pedrazzoli Mec Brown 75 pull down saw, 300mm dia blade, 180mm vice
DSG heavy duty centre lathe, 8" CH x 96" b.c., 19-418rpm
Mitchell heavy duty gap bed lathe, 8" CH x 50" b.c., 15-500rpm with equipment
Reed Prentice Corp 14" heavy duty lathe, sliding gear head, 7" CH x 32" b.c., 22-536rpm
Ward heavy duty capstan lathe, 6 head turret, 37-750rpm with equipment
Herbert 2D capstan lathe, 6 head turret, collet chuck, 50-2550rpm
Herbert No 0 capstan lathe, 6 head turret. Herbert capstan lathe, 6 head turret
Myford super 7 model makers lathe, 75mm CH x 480mm b.c. with equipment.
Myford ML1 toolmakers Lathe.
Cornet Wood Lathe

Qty small tooling / inspection inc: drills, taps, reamers, machine vices, bench vices, tapping heads, rotary tables, dividing heads, milling cutter, turning tools, tool holders, micrometers, vernier calipers etc

Sheetmetal / Welding
Keetona Hydroform HUF103 16028 / 3.175m x 5mm capacity universal bending & folding machine
Edwards Truecut 4/2500 powered guillotine, 2535 x 4mm capacity, front supports, s/n73C/36871
Edwards 48" manual folder, back support. Keetona 48" manual rolls
Langley 1750 hydraulic tube bender, 15mm capacity x2000mm long, Russel Bowen systems hydraulic formers, 170kg / cm2 max pressure
Pels metal worker. Hilmor manual pipe bender
Boschert Supra 30 corner notcher, 6mm mild steel, 4mm s/s capacity.
80x80mm foot operated notcher
10" blacksmith anvil
72x36" metal welding table with Record No6 bench vice
Hancock oxycetalyne copier, Haycock Caput 4 electric tracing head, 59"x48" work area
Metropolitan Vickers 60kva spot welder, 22" throat. 24" throat spot welder
Esab Lag 315 mig welder, 315A with Esab A10_MVC 30 wire feed
Thermal Dynamics Thermal Arc Pak 5xR plasma cutting system
AWC 200 welding transformer, 200A, 10kvaC
larke Weld Easi Arc 150 arc welder, 240v
Mobile bottle trolley, welding torches, gauges etc

Pressing
Taylor Challen B3 ½ mechanical press, 60 Ton, 4" stroke, 2 ½" slide adjustment, mechanical guards, s/n 1575, 30x26" bed
Bliss 6H mechanical inclinable press, 6" stroke, 17" shut height, 40SPM, 30x22" bed
Rhodes FH/600 mechanical inclinable press, 30x22" bed, straightener, mechanical guards
Rhodes mechanical inclinable press, 26x14" bed, mechanical guards
Taylor & Challen 370 'C' frame mechanical press, 700x570mm bed
Taylor & Challen B3 mechanical press, 30x24" bed, mechanical guards
HME mechanical inclinable press, 20x16" bed, mechanical guards
2x Bliss mechanical presses, 16"x10" bed, mechanical guards
Bliss mechanical press, 14x10" bed
4x Broughton etc mechanical presses
Mechanical press, 18x14" bed
Humphries OC-AB mechanical press, 10 Ton, 14x10" bed, mechanical guards
Hazelwood Dent 'B' 3" throat manual flypress
Sweeney & Blockidge 5" throat manual flypress
Herbert twin column manual flypress on bench
Healand 15 Ton hydraulic press, 500x400mm bed

Miscellaneous
Ford 90T350 flat bed transit, aluminium back, tipper, Dura Torq DI diesel engine, 5 speed manual gearbox, 53,000 miles (un-warranted), 02 reg.
Volkswagen E Reg Polo. Bonser 30E electric fork lift truck, 1360kg capacity
Broomwade HV85A-F3 'V' compressor on 59x20" air receiver, 45 PSi
Broomwade AC10 compressor on 40x15" air receiver, 2.2kW motor. Hydrovane compressor.
Qty bar racks with bar stock inc: copper, brass, aluminium, s/s, steel tube, round bars, box, sheets etc
Clarke devil 850 gas space heater. OHV 3000CL air cooled generator, 2.5kW max output, 50Hz, 115/230v
King ½ Ton electric chain hoist, pendant control
Qty tool racks, work benches, gauges, nuts, bolts, castors, springs etc
Omicron portable air cooler. Salisbury Sherpa 3B pedestrian lifter truck, 7 CWT SWL
2x drilling fixtures with 8x pneumatic drilling heads. Limpet mag drill
Belle Mini-mix mark III electric mixer, floor standing drawing board. table & chair

Antiquities & Collectables
Qty antiquities & collectables inc: roll top desk (needs renovation), four leg desk on casters, shaving equipment / pots, vinyl records inc: Beatles, Rolling Stones, Monkees etc (LP's), antique sun lamp, bedside cabinets, antique scales, vintage oak glassed doors, Burrows adding machine, Qty Brother / Singer sewing machines etc.